'The only way to make sense out of change is to plunge into it, move with it and join the dance.'
Alan Watts
This February blog has been a long time coming. Mainly because I've been too busy resisting change, adapting to change and eventually immersed in the flow of change to find the right moment to reflect and write about it.
A couple of days into January my husband damaged a disc in his back, which led to several weeks of total bed rest and a slow, gentle recovery that is ongoing.
It had that combination effect we all know from unexpected events, of throwing our household into a muddle of coping chaos while simultaneously bringing a deep appreciation for the oft taken- for- granted gifts of health and ability.
There was also the wonderful rallying round of family, friends and neighbours in all sorts of big and little ways, a welcome reminder of our place in the wider community, the web of humanity there to hold us when the going gets tough.
At the same time another change occurred, beyond my control. I found myself based in my home workspace which, for the last 5 years, has been used for other purposes. I had been planning to gradually base myself here over time but I did not expect it to happen the way it did. Funny how life intervenes sometimes with other plans, it reminds me of that saying, tell God your plans and watch him laugh.


I've been reading a book by Pema Chödrön, a Buddhist nun, called Living Beautifully with Uncertainty and Change. I heard her interviewed on a Podcast speaking about the book so I ordered it from the local library (one of my top fave resources). My favourite paragraph right at the start goes something like this: "As human beings we share a tendency to scramble for certainty whenever we realise that everything around us is in flux... but in truth the very nature of our existence is forever in flux. ... So this is where we find ourselves: right in the middle of a predicament. How can we live wholeheartedly in the face of impermanence knowing that one day we're going to die? What is it like to realize that we can never completely and finally get it all together? How can we make friends with unpredictability and uncertainty - and embrace them as vehicles to transform our lives?"


I love this sentence about scrambling for certainty becasue I notice how much I do this right when things begin to go pear shaped or in a direction I didn't expect. I start worrying about money or health and future events I cannot predict or control desperately looking for ways to fix things in place. And what I'm learning is, to be kind to that fearful part of me, embrace the change and step boldly into the flow.
And so I have been moving, physically and mentally, to occupy this new place. Watching how sunlight falls across the hills and brightens the whole room. Listening to inspiring podcasts and reading books that stimulate me, inspire me and motivate me to fulfill my goals, deepen my creative practice and be the best human being I can be. I've realised I want to share this space with others not just as a practice for holistic wellness but for small groups, people who wish to explore creativity, wellness, poetry, sound and connect to themselves and others in a deep way. So I've been devising workshops and events that reflect that and putting the word out.
It feels like a reinventing, a new beginning, at times daunting and at times thrilling. Although I've worked closely with many community groups, schools, colleagues, associations and organisations over the years my work has ultimately been a solo journey as a practitioner, a writer, a performer and a facilitator. And this is a new stage, with all the attendant doubts, fears and joys that new growth brings.
I'm now welcoming clients to this beautiful new space, with the Dublin mountains to explore if you are looking for some headspace or a break from the city streets. I'm also using Zoom online sessions for those who cannot travel.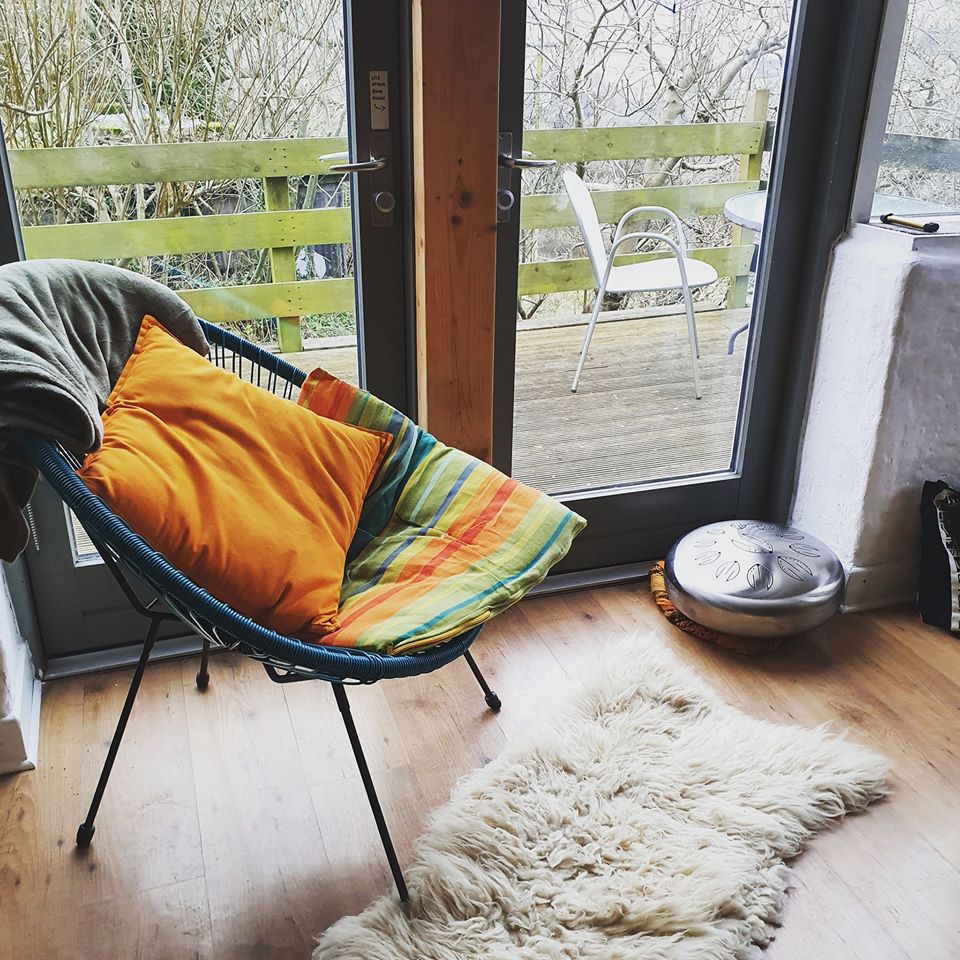 Podcasts I've enjoyed listening to recently:
Mark Nepo interviewed by Chloe Goodchild – VOCE dialogues Podcast
Elizabeth Gilbert interviewd by Fearne Cotton - Happy Place Podcast
Books that have been useful at this time –
Pema Chödrön - Living Beautifully with Uncertainty and Change
Brené Brown - Braving the Wilderness - the quest for true belonging and the courage to stand alone
Elizabeth Gilbert - Big Magic
'It is what I was born for –
To look, to listen,
To lose myself
inside this soft world –
to instruct myself
over and over.'


Mary Oliver